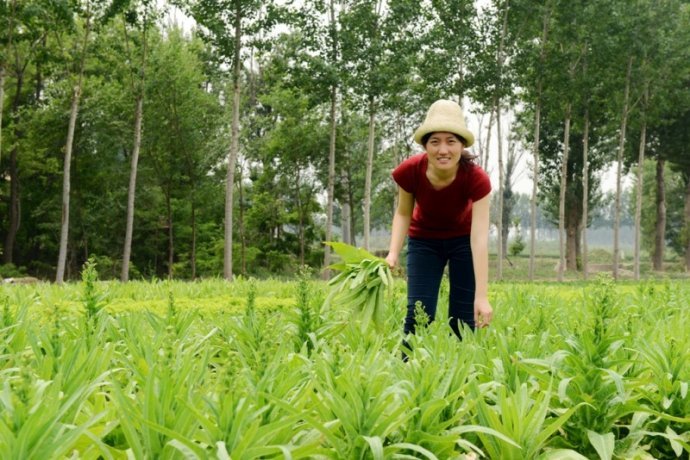 By Alison van Diggelen, host of Fresh Dialogues
Six years ago, she founded the first community supported agriculture (CSA) farm in China. Today, organic farming pioneer, Shi Yan and her team serve hundreds of city dwellers in Beijing; and her thriving Shared Harvest Farm has inspired dozens of CSAs across China.
Shi Yan is one of a growing group of farmers in China who are bucking the trend of young workers abandoning agriculture and being drawn to cities like Beijing, one of the world's largest conurbations. By helping bring young people back to the land and serving the growing demand for sustainable practices and organic food in China, Shi Yan has attracted the attention of major media outlets, NPR and the BBC.
On July 10th, I was invited to join BBC host, Fergus Nicoll on BBC World Service program, Business Matters to interview Shi Yan about her mission; and explore the economic and social drivers for organic produce in China.
Listen to the BBC podcast here(starts @34:47) The transcript has been edited for length and clarity.
Fergus Nicoll: We are going to devote much of the second half of the programme to environmental issues. We'll hear about Community Supported Agriculture in China and our guest Shi Yan is with us from Beijing…Let's welcome Alison van Diggelen of Fresh Dialogues. Alison, we're going to leave your microphone open.
Alison, as anybody who knows her website Fresh Dialogues, is a professional asker of questions. Alison: jump in when you fancy and we'll make this a three-way discussion.
Shi Yan, tell us a bit about Shared Harvest…and the concept of community supported agriculture.
Shi Yan: Our farm Shared Harvest is located in Tongzhou district of Beijing. Right now we have about 15 hectares of land we rented for 15 years. Most of our produce is vegetables and we also have almost 2000 chickens and 50 pigs. Every week we deliver our produce directly to our members. CSA is a way that links the farmers and the consumers directly and we build the trust between the consumers and the farmers. Right now we have about 600 families in Beijing; most of their food comes from our farm.
Fergus Nicoll: Is that entirely organic or are you allowed to sneak in some pesticides or herbicides?
Shi Yan: Actually we call our produce "organically produced" because we don't have the organic certification but we don't use any chemical fertilizer and pesticides.
Fergus Nicoll: What about the market for that, because in different countries the market for organic food has waned and grown depending on economic circumstances…a growing middle class wants a purer production mechanism…even if it's not organic with a capital "O."
Shi Yan: In China in the last seven years, organic agriculture is growing pretty fast because of issues related to food safety, environmental issues. When I started in 2009…very few consumers knew about the concept of CSA, but right now a lot of people in Beijing know this model.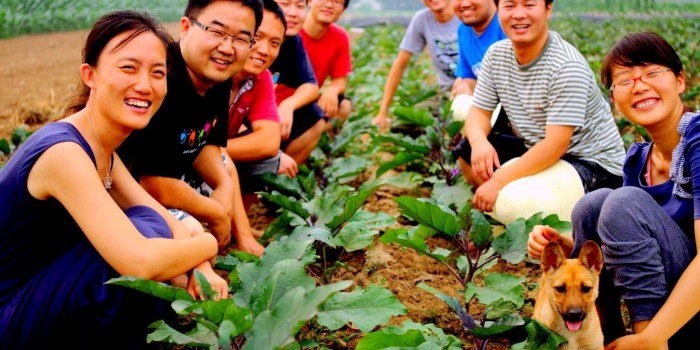 Fergus Nicoll: A lot of people who buy organic face criticism from people who don't. They'll say: I go to the supermarket and I see a box of six perfectly produced apples, they all look 100% identical like clones, selling for "X" and next to that are organic apples that are kind of lumpy, they're all different shapes and they cost "X plus" Do you ever get that complaint?
Shi Yan: If you order the vegetables from a CSA farm (in China) the price is about 2/3rds of the price in the supermarket. Right now, consumers care more about the food quality rather than the price. A lot of them are rethinking our food system because if you only look at the appearance of the fruit or vegetables…a lot of food (in non-organic farms) is wasted because of their appearance.
Alison van Diggelen: I'm curious about the drivers in China. Do you have a feel for your consumers…Is the impact of pesticides etc. on the environment is that a major driver? Or would you say the main drivers are food scares and the quality of produce?
Shi Yan: At the beginning the food safety issues…a lot of food scandals happened and people started looking for healthy food. But later they found the deep reason is not the market or the food itself, but a lot of problems happened in the rural (areas)…food comes from the village and in last 10 years, fewer and fewer young people stay in the village. Right now most of the farmers growing the food are above sixty years old, struggling for their livelihood. Can they really take the responsibility of producing healthy food? It's a big problem.
Fergus Nicoll: Can I ask you about "labor shifting" consumers actually doing the farming themselves? Because they're extremely motivated but may not know the best way to do it.
Shi Yan: We have two models: one part you can order our produce, we will deliver to your door. (Or) you can rent a piece of land: 30 square meters of land, as a farm. Every week you can come to your farm, grow your own food.
Alison van Diggelen: I'm curious about how you're delivering your food. Are you using electric cars, non polluting cars, delivery trucks?
Shi Yan: We use conventional small vans.
Fergus Nicoll: In the US, if I go and see friends in Davis, I know when we go down to the farmers market, there'll be really good stuff. This is relatively well established, certainly in California?

Alison van Diggelen: Absolutely, yes, CSAs are very established here, since the 1980's. Here's an interesting anecdote for you, Fergus: I've been a subscriber to a local CSA called Planet Organics and just this month they've had to close up shop after 19 years. They've been squeezed out by major players.  Walmart is getting into the organic food business. Wholefoods has been there a while. It's becoming so mainstream that it's hard for these CSAs to compete.
Fergus Nicoll: So they're getting priced out of the market…
.
To be continued.
Check back soon for Part 2 when we discuss the implications of the historic California drought. This segmentfeatures my interview with California State Water Resources Control Board member, Dorene D'Adamo, recorded at the Silicon Valley AgTech conference.